babydoll 2.0
One of the first inspirations that got me thinking about starting to sew for myself again was a series of posts that a friend made from the designer
Mod Dolly
.
These smock dresses remind me of a lot of dresses that I wore in high school in the early 1990s & they are a very simple pattern. I couldn't stop thinking about one such dress... a Rampage brand gauzy peach colored rayon with a bright rose and pink overall floral - it was oversized, amorphous in shape, and looked really cute on both me and my best friend who was 10" taller and considerably bustier than I. It was also equally at home accessorized with colored Docs or chunky sandals. I gave that dress to my friend when we graduated high school as a mark of my friendship. The thought of it still evokes many memories - it's amazing how styles of clothing identify with significant experiences - I notice this more as years go by and I have more of a history of experiences.
1990's revival fashions are very trendy at the moment and it's sort of weird to see a fashion that I wore un-ironically come back around both in vintage and in reinvented inspiration for current items. Here's a quick collage of searching "90s babydoll dress" in Google Images to show the inspiration I've had in mind for the dress I've been wanting to make.
I also see traces of the same style in Mori and other Japanese fashion and sewing books like
Stylish Dress Book: Wear With Freedom
which is chock-full of beautiful smocks and oversized dresses.
I noticed some great rayon challis florals on fabric.com that I thought would be prefect for such a dress. I couldn't find a pattern amongst contemporary patterns for this simple oversized smock shape, so I started scouring etsy and ebay for an authentic 1990's pattern. After a lot of browsing - I found one that I thought would work, with some modifications.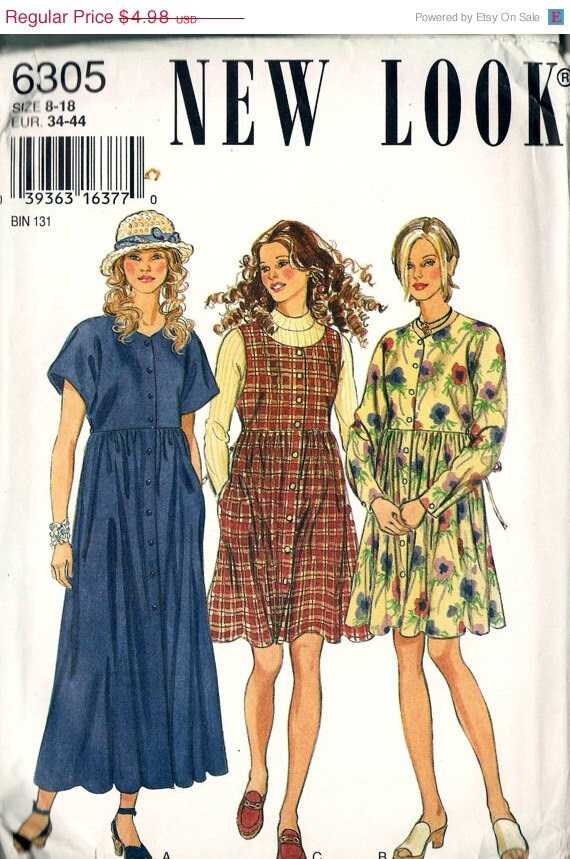 I made the short sleeves with the shape of the sleeveless neckline and omitted the buttons and the back ties. It looked a bit more fitted than I wanted and I wasn't sure if it would work as a pull-over style without the buttons if I made it to my bust size, so I made it two sizes bigger to start. I used the thrifted rayon challis I found on Mother's Day, which was the perfect weight to test this style. Turns out that a lot of the shaping in this illustration is probably from the ties... so I ended up with lots of room in my wearable muslin. Lots and lots of room!
It's ridiculously comfortable, it layers well with a cardigan, and it is a perfect dress to wear to work on days when you covertly want to feel like you are still in jammies... but it's not quite the adorable babydoll of my dreams.
This is the pleasure of making a wearable muslin: I ended up with something to wear to work without cutting into my special fabric blindly & I learned a lot in the process. I decided to make the same dress in the size true to my measurements - here it is in some proper fashion fabric from fabric.com - a rayon challis print that I've had my eye on - I love the colors and the print. I think the print is evocative of 90s style without being dowdy or costumey. It drapes and flows really well, as a dress of this style should.
I think the second shape is a lot more youthful and fun, while still oversized - but I might even go down one more size, if I make it again. Another thing I was really happy about changing was the pockets. In the first one, I placed them right where they were marked, which turned out to be a little low. I can still put my hands in them, but not quite up to the wrist. In the second one, I actually set them into the waist, so they don't flap around and they are higher. My hands are in the pockets in each of these pictures - in the second dress the pockets are just more properly functional and comfortable than the first.
It's a very simple pattern to make. It lends itself to subtle adjustments and makes a dress that is comfortable and effortless to wear. For fall, I definitely want to make at least one more in plaid flannel. Here's my inspiration collage from Google Image searching "plaid 90s babydoll" I think the plain front would be cute in short and long sleeves and also one adding back in the buttons & maybe some bias-cut pockets could be cute too.
I am also really taken with the black velveteen accents too, but that would be a lot of work to add to this plain pattern - so I scouted around etsy again today and found a dress that already has a collar in the pattern that I can also play with later. It wouldn't be too hard to lengthen the seelves to make them 3/4 and add some black velveteen details. Again, this is a pull-over style dress that is getting the fitted look from back ties, but actually has a lot of room in the cut. I think I would omit the ties and keep it oversized and drapey.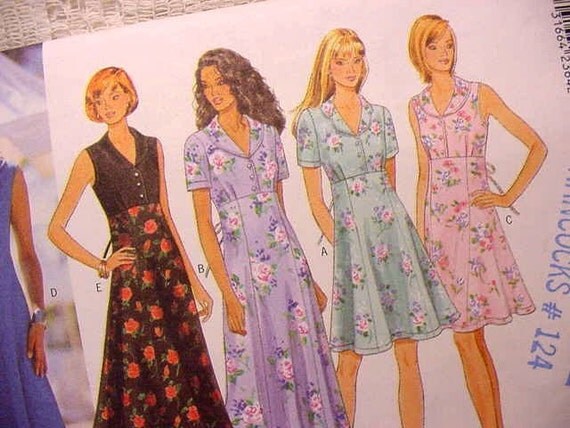 I should get some good practice with plaid matching on these projects!